January 28–30, 2010 in Berkeley, CA & February 25–27, 2010 in Los Angeles, CA
We had the most wonderful, dedicated, and hard-working group of future community leaders, along with their adult sponsors, participate in the 2010 Young Worker Leadership Academies (YWLAs) in Berkeley and Los Angeles.
California Rural Legal Assistance (Stockton, CA) – 2010 Berkeley YWLA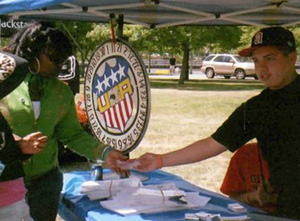 The team created a booth and handed out materials at the Stockton Teenfest.
The booth included a spin the wheel game to test participants' knowledge about job rights and responsibilities.
They also created a "know your rights" card to distribute.
The remaining handouts were distributed through career centers at team members' high schools.
"I learned about working in a team.  This experience made me think our project can be simple and fun.  I would hope other youth would sign up because I had a great experience." – CRLA Team Member
College Track (Oakland, CA) – 2010 Berkeley YWLA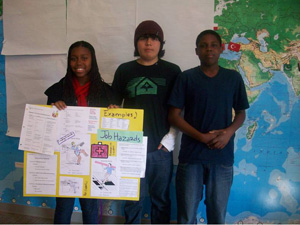 The team developed and conducted a 40 minute presentation for 25 high school students.
They developed a Powerpoint presentation and a display board for the presentation.
The display board will remain in the College Track tutoring room and break room so future participants
"The audience liked our presentation and asked many questions. Hardly anyone knew about young workers rights." – College Track Team Member
Livingston High School (Livingston, CA) – 2010 Berkeley YWLA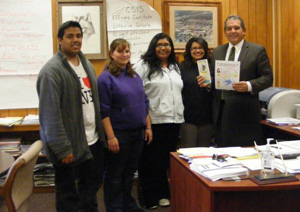 The team created a multi-lingual flier and brochure to inform students about workplace safety and job rights.
They had tables at lunchtime and shared this information with at least 85 students.
They also met with the principal. The school will now annually provide this information to students.
"I learned that youth do have organizations out in this world who are fully supporting them. YWLA taught us a lot about our safety and rights at work." – Livingston High School Team Member
One Achievement (Stockton, CA) – 2010 Berkeley YWLA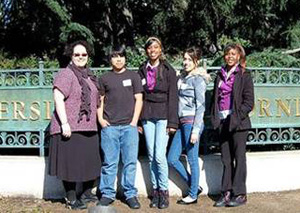 The team conducted an hour-long workshop for 35 students.
They also presented to the directors of One. Program.
The team has been asked to present to all 700 high school students in the district as part of their orientation in the fall.
One team member participated in a statewide press conference promoting Safe Jobs for Youth Month.
"The YWLA provided me with valuable information which made it easier for me to go out and teach other teens about it. The project was very challenging but fun!"
– One Achievement Team Member
Project YES (Ceres, CA) – 2010 Berkeley YWLA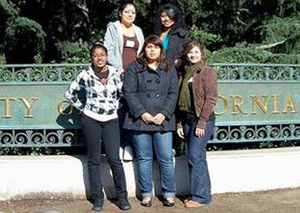 The team conducted presentations for the Modesto Jr. College Hispanic Education conference and the Stanislaus Youth Advisory Council.
They created and staffed a booth at the Ceres Youth Job Fair.
They handed out fliers and materials at three other community fairs.
They participated in a statewide press conference promoting Safe Jobs for Youth Month.
"It was great! All the information that was given was really helpful." – Project YES Team Member
YouthBuild (Santa Rosa, CA) – 2010 Los Angeles YWLA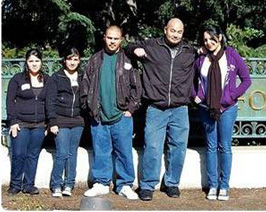 The team created a six-minute information video featuring the story of an injured teen worker.
The video will be shown to incoming participants in the YouthBuild Santa Rosa program as part of their orientation.
The video has also been posted on You Tube and will be posted on the Sonoma County Office of Education website.
"I hope the video that my team and I made will help and inspire many people. I hope it prevents injuries and accidents. This experience in the YWLA helped me grow, and I have become more aware of my safety and rights." – YouthBuildTeam Member
Summit High School Peer Leadership Development of Fontana – 2010 Los Angeles YWLA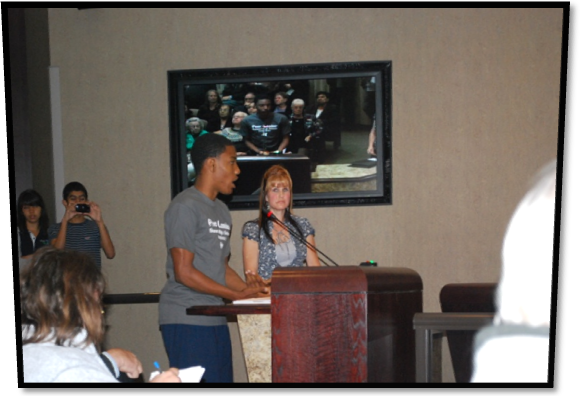 Spoke before the Fontana city council and the mayor to introduce their concerns about young worker rights and responsibilities
Partnered with the district's Work Experience Educator to survey young workers on their knowledge of their rights at four comprehensive high schools and two continuation high schools.
Raised awareness throughout the city of Fontana around the need to communicate with youth about their rights and responsibilities as young workers in California.
"I had no prior understanding of my rights but the YWLA Program has opened my eyes to how important teen safely is and how easily it is to get harmed or even killed if you do not just follow the basic requirements that working teens have. Thanks for teaching me to help teach others." – Youth Team Member
Taft High School Work Safe! of Tarzana – 2010 Los Angeles YWLA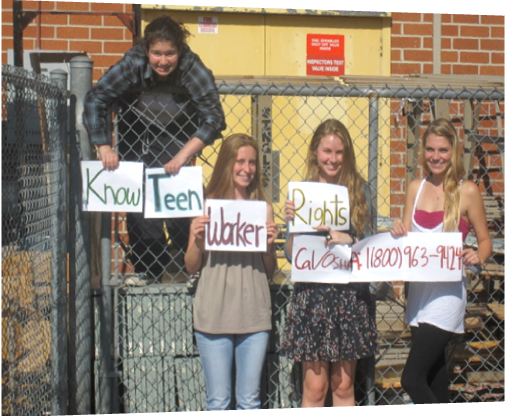 Wrote and performed skits for classroom presentations to raise awareness about young worker rights and responsibilities.
Ordered and distributed pens with Cal/OSHA numbers to their peers.
Convinced school administrators and career counselors to include teen worker safety information with work permits.
"YWLA was an incredible eye-opening experience about situations in the workplace that we had never been taught about. We all left knowing how to be smart and work safe!" – Youth Team Member
LA Works. "Be Aware, Be Prepared" of Irwindale – 2010 Los Angeles YWLA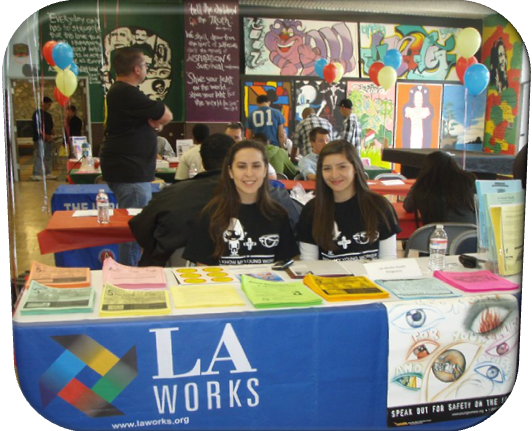 Hosted a "Know your worker rights" booth at the annual LA Works Youth Resource and Career fair.
Enlarged and laminated the "Are You a Working Teen" poster to be displayed at various high school career centers.
Presented young workers rights at the College Bound Youth Program monthly meeting.
"This was a very fun learning experience! All teens should know their rights!" – Youth Team Member
Harbor Teacher Prep Academy. Aware, Prevent, Enforce! of Los Angeles – 2010 Los Angeles YWLA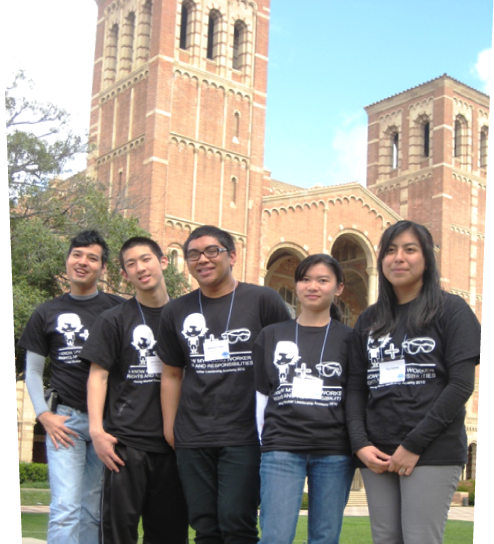 Wrote an article in the school newspaper in May on being aware of young worker rights, preventing exposure to hazardous situations and enforcing young worker rights.
Created an evaluation, brochure and PowerPoint to be presented in classes.
Students seeking work permits will also receive this group's brochure.
"I realized how only very few students are aware of their rights as teenage workers. Participating in the YWLA conference made me play a significant role in my community and gave me an obligation to prevent my fellow high school students from getting injured at their job." – Youth Team Member
Community Housing Works. Eres un Joven que Trabaja? Are you a Working Teen? of San Diego – 2010 Los Angeles YWLA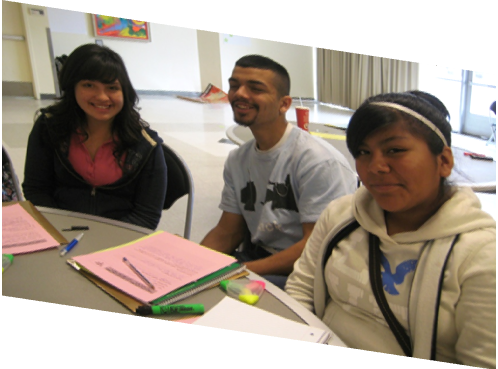 Conducted a YWLA bilingual workshop for their community.
Translated the YWLA Jeopardy game and presented it to the community in addition to the Are you a Working Teen? factsheet.
Shared their YWLA experience to the community in order to better explain the Safe Jobs for Youth project.
"I was excited to find answers people did not know. Rights on the job are very important and this applies to everyone no matter race, color, or where you come from." – Youth Team Member
North Monterey Bay High School – 2010 Los Angeles YWLA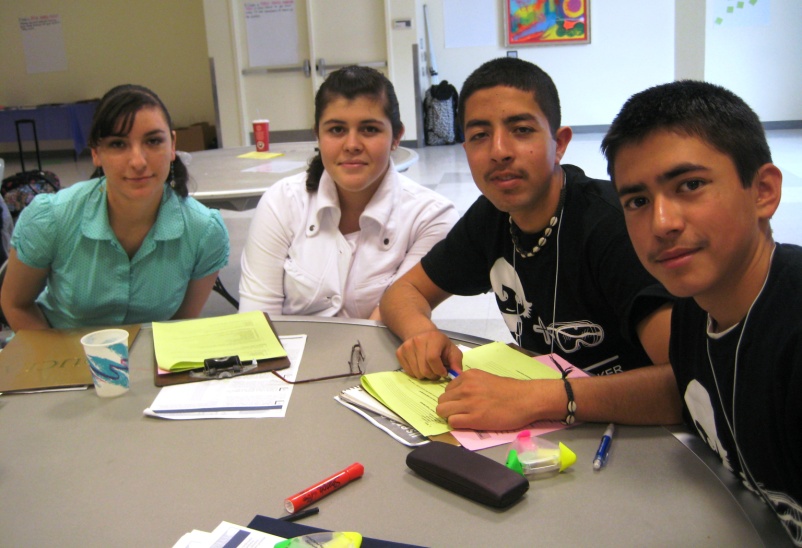 YWLA Youth Mentors of San Diego of Los Angeles and Sacramento – 2010 Los Angeles YWLA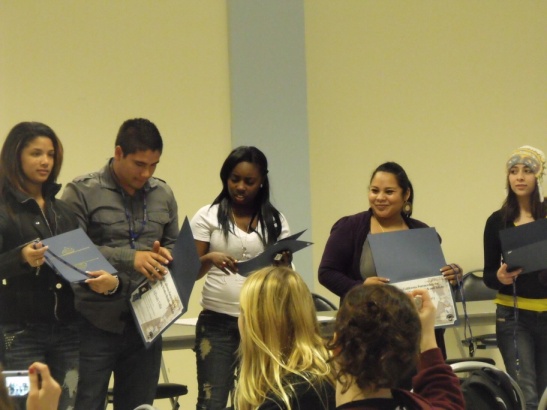 Developed materials and presented young worker rights at school skill classes.
Teachers in their schools were pleased to host the youth mentors' Safe Jobs for Youth month projects.
One youth member became the first youth mentor to lead the youth mentor sessions at the UCLA YWLA.
"It was a great experience to help others learn more about their youth working rights and to enable them to educate other youth about such rights. Every step leads to a safer, healthier work environment for youth all across America." – Youth Team Member